Design Thinking is a quick way to solve problems in new and innovative ways by exploring new alternatives. We help organisations understand the importance of Design Thinking and how it can be incorporated in their own context.
With increasing use of mobile devices and the "mass-consumerization of computing" the IT industry has moved from "tech-led" to "experience-led" digital products. We engage with our customers & understand business objectives as well as user goals to help identify needs and define the user experience.
Check it out. >>
As Near Future Laboratory puts it, Design fiction takes a look at a set of open issues, explores 'unknown unknowns' and contests the status quo to imagine strategic alternatives. Projects incubated at Ideafarms explore the application of mobile platforms in areas such as retail and healthcare for social impact.
View portfolio. >>
The Design Thinking workshop organized by Ideafarms was fabulous! The format including the exercises was simple yet insightful and it was interesting to see how each team collaborated differently and there was an abundance of ideas once the "idea tap" got flowing! The workshop not only provided a rich learning experience but was also a lot of fun.
– Sr. Vice President, ITC Infotech (USA) Inc.
Here's what everyone's raving about
Mr. Joan Kluun, former Managing Director, Waterloo BV, talks about the Product Selection Guide that Ideafarms prototyped, and then went on to build for the company.

Check out Product Selection Guide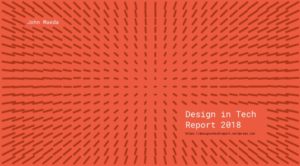 John Maeda presented the Design in Tech report 2018 at the SXSW Festival. One of the contributors of the report was our very own Sunil Malhotra. Sunil helped with the Design and India section of the report. Check it out at the official Design in Tech Report
Design Talks is a podcast series on design. In the pilot episode of this series Ideafarms' CEO Sunil talks about Design-in-Tech and Design Entrepreneurship for Social impact (DESi), followed by highlights from Sunil's talk for fellows of Aspire Circle and his take on the challenges facing the social sector in India.
Tune in to the conversation between Ideafarms' Sunil Malhotra & Jorge Barba during the Big Band podcast at innovation blog, Game-Changer: Demystifying Design Thinking

Read more about Design Thinking – the latest buzzword