Design is too important to be left to
designers.
– Raymond Loewy
Design Thinking — The Strategic Differentiator
It's that time of our existence when we need a paradigm shift. 
In an increasingly competitive market, where users and consumers have become empowered, the traditional approach to innovation is no longer sufficient. Now it's all about the customer's lifestyle and her experience.
This has driven companies to focus on design, changing the way they think about their products.  As products become more complex, consumers are demanding more and more simplicity in every aspect of their experience with products and services.
Steve Jobs said "people don't know what they want until you show it to them." We are saying, maybe they do. They know best what they need but don't know the best means to achieve it. And that's where we come in.
The ability to fish out needs and transform them into experiences is the emerging paradigm; Design Thinking is an ideal framework to use because it focuses on developing deep empathy for customers and creating solutions that will match their needs—as opposed to just dreaming up and delivering technology for technology's sake.
"Design thinking can be described as a discipline that uses the designer's sensibility and methods to match people's needs with what is technologically feasible and what a viable business strategy can convert into customer value and market opportunity."

— Tim Brown, President and CEO, IDEO
On Offer
Primer

Design Thinking Primer introduces participants to the Design Thinking as an approach to problem solving and an overview of the process through an interactive session.
Workshops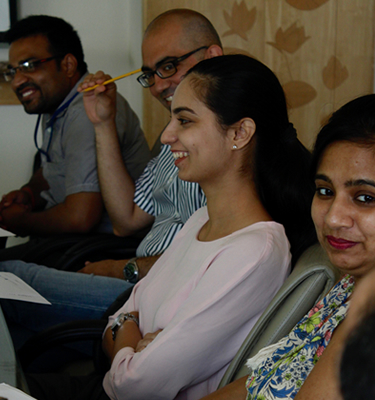 The Full Day Workshop walks participants through the entire process of Design Thinking and provides hands-on experience in the application of some of the tools and methodologies through exercises.
Interested in hosting us in your organisation for a session? Shout out to us right now!
We're a small team of three (so far) and are always looking for hands on deck. Check out how you can be a part of the action: Get Involved