Design is too important to be left to
designers.
– Raymond Loewy
Design Thinking — The Strategic Differentiator
It's that time of our existence when we need a paradigm shift. 
In an increasingly competitive market, where users and consumers have become empowered, the traditional approach to innovation is no longer sufficient. Now it's all about the customer's lifestyle and her experience.
This has driven companies to focus on design, changing the way they think about their products.  As products become more complex, consumers are demanding more and more simplicity in every aspect of their experience with products and services.
Steve Jobs said "people don't know what they want until you show it to them." We are saying, maybe they do. They know best what they need but don't know the best means to achieve it. And that's where we come in.
The ability to fish out needs and transform them into experiences is the emerging paradigm; Design Thinking is an ideal framework to use because it focuses on developing deep empathy for customers and creating solutions that will match their needs—as opposed to just dreaming up and delivering technology for technology's sake.
"Design thinking can be described as a discipline that uses the designer's sensibility and methods to match people's needs with what is technologically feasible and what a viable business strategy can convert into customer value and market opportunity."

— Tim Brown, President and CEO, IDEO
Ideafarms' Design Thinking offerings: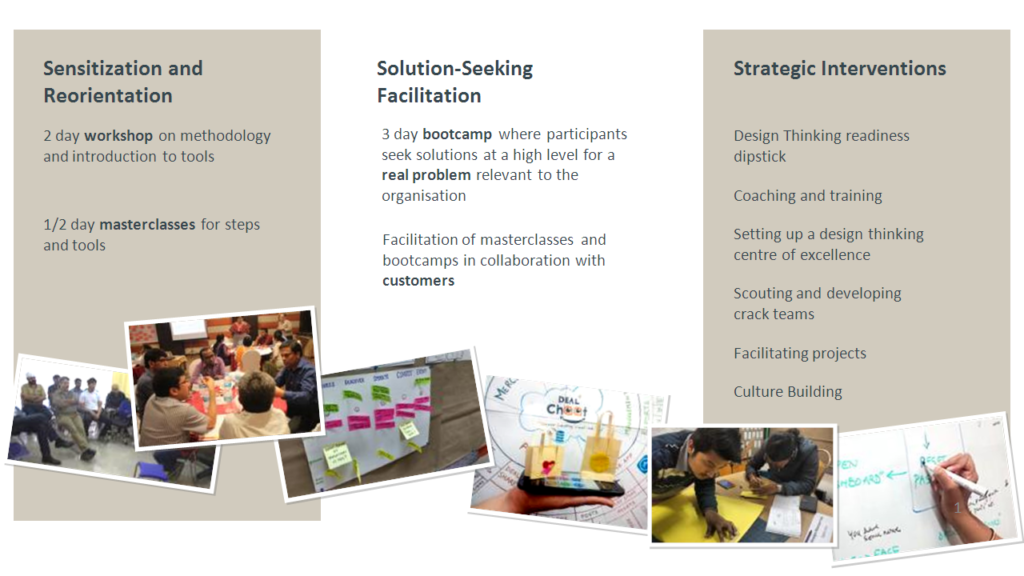 Workshops
The Ideafarms Introductory Design Thinking workshop provides participants a hands-on experience of the power of design thinking in their context.
Spread over two days, the workshop introduces participants to the methodology and tools of Design Thinking. Participants work through a problem statement to get a hands-on feel of the process and walk away knowing why it's important to think from the customer's point of view.
Masterclasses
Organised into a series of half day capsules spanning multiple weeks, masterclasses are designed to help participants absorb the philosophy of Design Thinking and incorporate it into their work.
Participants work within specific steps of the Design Thinking methodology and explore it in-depth using tools that are relevant to a problem statement.
Interested in hosting us in your organisation for a session? Shout out to us right now!


its.magic@ideafarms.com
HAPPY CLIENTS
WHAT THEY'RE SAYING
"The Design Thinking workshop organized by Ideafarms was fabulous! The format including the exercises was simple yet insightful and it was interesting to see how each team collaborated differently and there was an abundance of ideas once the "idea tap" got flowing! The workshop not only provided a rich learning experience but was also a lot of fun."

– Sr. Vice President, ITC Infotech (USA) Inc.
"Ideafarms helped Sonata by conducting training and workshops on design thinking concepts and its application. In just a few months, there were several instances of beneficial application of this approach. As an example, this was applied to the user experience design for a live customer project. The process of application enabled customer business teams and technical teams to align better and it provided better clarity on the detailed business needs. This enabled the right level of input for the system design and helped prevent costly requirement changes in later parts of the project."

– Vice President, Sonata Software
Design Thinking FAQs
Why Design Thinking?

The Design Thinking construct focuses on desirability, viability and feasibility; and can help reinvent, innovate and improvise constantly to come out with the best possible solution, that are human centric.

What is Design Thinking?

Design Thinking can be 'defined' from several perspectives. Here are a few:

Design Thinking is a tool kit for innovation and focuses on reinvention of different creative solutions for problem solving. It doesn't focus on the end-product, rather it focuses on the roadmap to success, using different combinations.

With a strong focus on the end user, Design thinking offers a structured framework for understanding and pursuing innovation in ways that contribute to organic growth and add real value to your customers and in a larger sense, to your own business.

It is an approach (a set of tools, mind-set & methodology) to solving problems that focuses on the end users by empathizing with them. The goal is to develop useful products and solutions that fit the needs of the user, not the other way round.

Who all can use it?

It can be used most effectively by an entrepreneurial mind who wants to constantly reinvent and innovate his/her line of business to design and/or redesign the best possible solution.

Is Design Thinking specific to services or products industry?

Design Thinking can be used in all spheres of life, mainly in services and manufacturing. It could result in new products and services for customers or improved processes and productivity gains for internal operations. It can be used in our daily activities to make them more efficient. Organizational programs can also inculcate DT to transform HR, finance, marketing, or operations team—turning them into lean and agile profit centres.

Is it a concept/practice or something tangible?

Design thinking isn't one thing, but a bundle of mindsets and philosophies all wrapped up in one term, which obviously has the potential to lead to ambiguity and misunderstanding.

Tim Brown of Ideo sums it up in his description of Design Thinking as an approach to use the designer's sensibility and method to match people's need, with what is technologically feasible and what a viable business strategy can convert into customer value and market opportunity.

Does it focus on customer centricity or is it technology driven?

DT is highly customer centric. We first understand the need of the user and then customize or improvise any process according to his/her needs.

Whom do you apply it on?

DT can be used in any process in any sector depending on the feasibility of it's use and the business impact it has. For a student, we try and analyse how useful will it be to him, from his line of education after having a one-to-one consultation with him.

Where can I learn about Design Thinking?

We've curated a few links for you to get started. Check it out here: Design Thinking – the buzzword

Can I get certified in Design Thinking? Are there different levels of certification?

Yes! Details about the Ideafarms Design Thinking program are given below.

What is the Ideafarms Design Thinking program?

The Ideafarms Design Thinking program consists of five levels:

Welcome to the world of DT is an online introduction to design thinking, a process for creative problem solving.
Untapped Pockets for Innovation will help you uncover insights about the unmet needs of your target audience. You'll practice skills, like empathy and observation, to get to the heart of your business challenge.
From Ideas to Action will show you how to generate new ideas and bring them to life as a product or service. This approach to problem solving can be applied to any real world challenge.
Storytelling for Influence will help you motivate the audience towards action. Whether you need someone to support your organization, invest in your idea, or get excited about following your lead; storytelling or sharing your experiences can position you to succeed.
Leading for Creativity will help you unlock your organization's creative potential. You'll learn how to break down a bold vision into actionable challenges, make adjustments by designing rituals and space in accordance to the organization's need, and guide teams into the unknown, through the process

Is there an online module or are there any weekend sessions to clear my doubts, through classroom or webinars? (For students & working professionals)

The online modules as well as special doubt-clearing sessions are in the pipeline and will be available soon. Watch this space.

Will I get a placement after having completed the course? (For students)

We are currently in the process of tying up with different companies and planning the next steps.