Every once in a while, life throws obstacles in our path. And at other points of time, life gives us an opportunity to help some one else in need.
Here's a curated list of causes and organisations, with details on how you can help out.
---
Floods in Kerala, August 2018
The incessant rains in Kerala have led to the worst floods the state has seen in a century. More than 50,000 homes have been destroyed, and over a million people are now in relief camps.
While the flood situation is under control, the bigger task of rehabilitation and rebuilding lies ahead – repairs of homes, rebuilding houses, replacement of damaged furniture and house-hold equipments, helping micro business, food for homeless, scholarships for students who cannot afford fees, enhancing relief centres – the list is endless, and an army of volunteers is now needed to clean homes and wells.
Chief Minister's Distress Relief Fund
Chief Minister's Distress Relief Fund is an emergency assistance release mechanism granting immediate relief to families and individuals distressed by calamity, loss of life due to accidents and chronic diseases.
For details on donations: Government of Kerala: Chief Minister's Distress Relief Fund
Indian Red Cross Society
Indian Red Cross Society (IRCS) is the largest humanitarian statutory organisations established by an Act of Parliament. It has been working in India for close to 100 years, primarily in extending relief and building long-term community capacity to respond to disasters and calamities.
In-country Indian donors can donate through bank transfer to the following account:
Beneficiary name: Indian Red Cross Society Disaster Relief Fund
Savings Bank A/c No: 127104500000028
Bank: IDBI
RTGS/IFSC Code: IBKL0000127
MICR Code: 110259012
More details: India Floods 2018 – Donation Appeal by Indian Red Cross Society
Oxfam India
Oxfam India works primarily through grassroots organisations to bring deep-rooted sustainable changes in people's lives. They work for the poorest and the socially excluded communities by mobilising them to campaign for greater economic and social reforms.
More details: Oxfam India
Rotary Clubs, Kerala
Rotary Clubs Kerala have done a stupendous job in the first two stages of Rescue and particularly Relief. Truly extraordinary efforts were made by clubs and Rotarians, as the disaster called for. Relief efforts need to continue till the last relief camp is closed. Rotary Clubs have sent food, medicines and other materials to relief camps all over Kerala
Rotary Kalamassery, is a 33 year club near Cochin, Kerala, which has done a commendable job in flood relief efforts. We opened the first relief centre in our own Karmakendra which shelters local homeless even now.
You can donate to Rotary Kalamassery directly at the following account:
Beneficiary name: Rotary Club of Kalamassery
Bank: Federal Bank, Thrikkakara branch
Account No: 10340100187945
IFSC: FDRL0001034
MICR code: 682049012
SWIFT Code: FDRLINBBIBD
Contacts:
Rtn Narayana Menon, Co-ordinator, Mobile +91 9645750442
Rtn Antony Tharian, President, Mobile +91 9447008023
Rtn KT Oommen, Secretary, Mobile +91 9497796499
---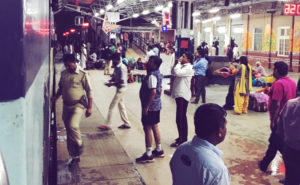 Rights of Children in Contact with the Railways
According to some estimates, as many as 11 million children live in and around railway stations – believed to have run away from home.1 Organisations working with children have observed that children rescued and returned to their families—as high as 50% of them—run away from their homes again. These children often get caught in a legal cross-fire that interferes with their lives.
Hazards Centre
Hazards Centre was set up by Sanchal Foundation in 1996 in response to a series of calls for assistance from community groups in need of professional assistance (such as the Bhopal gas disaster, large-scale slum eviction in Delhi, earthquakes in different parts of the country, etc.). The centre is a specialist agency to cater to the research needs of communities in distress.
As part of the All India Working Group on Rights of Children in Contact with Railways (AIWG-RCCR), Hazards Centre is working towards strengthening the capacity of groups working with these children in need of care and protection at railway stations. In the first-of-its-kind initiative, the group is researching the living conditions of children at the railways, understanding the 'agency' of children and the informal protection networks which they access for their own care and protection.
Initial findings of the survey of 2145 children across 120 railway stations in India contradict several widely-held beliefs.
Highlights:
About 75% of the children have an active link with their families—either living with them, or visiting them frequently (as opposed to the belief that they have run away from their homes).
A majority of the children come to the stations in search of livelihood, and have plans for their future, which they are working towards achieving.
More than half the respondents in the study said that they were harassed by institutions (like police, NGO) which are setup for their welfare & protection.
The group is now working on a qualitative study to know more about the trends emerging from the quantitative study.
In-country Indian donors can donate through bank transfer to the following account:
(note: due to the current legal framework, the organisation cannot accept donations originating outside India)
Account Name: Sanchal Foundation
Account Type: Current A/c
Account No: 10773569494
Bank Name: State Bank of India, IIT Delhi
Bank Address: Indian Institute of Technology, Hauz Khas, New Delhi 110016
Branch Code: 01077
Branch Swift Code: SBININBB547
IFSC: SBINOOO1077
Contacts:
Mr. Brahma Pandey, Mobile +91 85270 37408
Mr. Ranjan Mehta, Mobile +91 99537 15187
Email: hazardscentre@gmail.com
Website: http://hazardscentre.com/
For more details about the initiative: Ideafarms Podcast / interview with Dunu Roy.
---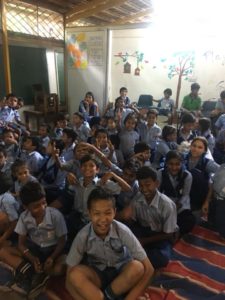 Education
According to the United Nations Educational, Scientific and Cultural Organization (UNESCO) there are 265 million illiterate adults in India.2 The Indian Constitution provides for free and compulsory education as a fundamental right to children between the ages of 6 and 14. However, high levels of poverty3 put earning of livelihood above basic education for a large number of people. Lack of affordable, quality education, discrimination based on caste, and the difficulties of first-generation learners from illiterate families further add to the challenges of economically weak and backward strata of society.
Nai Disha Educational and Cultural Society
Nai Disha Educational and Cultural Society (ND) is a non-profit organization with a focus on community development through education; believing in the basic social principle that all children should have quality education and equal opportunities irrespective of their birth and social status.
The organisation runs programmes for education, health and nutrition, skill development, women empowerment, and community outreach.
In-country Indian donors can donate to the following account:
Beneficiary Name: Nai Disha Educational and Cultural Society
Beneficiary Bank: State Bank of India, Sector D Pocket 2, Vasant Kunj, New Delhi-110070.
Account no: 61002823406
IFSC: SBIN0031668
Swift Code: SBBJINBB014
Foreign Donors can donate to the following account:
Beneficiary Name: Nai Disha Educational and Cultural Society
Beneficiary Bank: State Bank of India, East Park Road, Doriwalan, Karol Bagh, New Delhi-110005
Account No: 30284629815
IFSC: SBIN0020918
Swift Code: SBININBB550
The organisation also accepts cheque and cash donations.
Contacts:
Ms. Sangeeta Malik, General Secretary
Email: naidisha_ngo@yahoo.co.in, naidisha.vk@gmail.com
Phone: 8800995953 (8:30 am to 5:30 pm)
---
Notes:
1 The Economic Times: What happens to India's railway children
2 India page on UNESCO Institute for statistics
3Asian Development Bank: Poverty in India