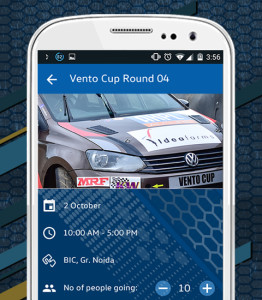 (we're) In The News
Ideafarms enters Motorsport with a bang!
Volkswagen Motorsport India launched the 'VWe Love Motorsport' app, in August 2016, that was conceived and created by our team at Ideafarms and we're kicked!
"Ideafarms is very proud to be the strategic design partner of Volkswagen Motorsport India as it takes this bold step in releasing the first-of-its kind application in India" says Sunil Malhotra, Founder and CEO-Ideafarms. The app provides a platform for enthusiasts to stay up to date with the latest on Volkswagen Vento Cup. "With a user centric approach, this solution has been designed to provide Volkswagen with data-driven insights for strengthening its customer relationship" adds Mr. Malhotra.
Commenting on the application launch Sirish Vissa, Head Volkswagen Motorsports India said "We are a technology driven unit and it is only apt that this is represented though our mobile presence as we are already present online and on most of the social media platforms. The application aims to bring motorsport fans closer to the Volkswagen Vento Cup wherein they will receive regular updates making it easier for them to follow the best premium one-make racing series in India in real-time."
Working on this project has resulted in a huge learning curve for our team and we are charged to continue designing innovative solutions in the future.
If you're in Delhi-NCR, then block your date – the last race in the series is on 2nd October 2016 at the Buddh Internation Circuit (Yup, the Formula 1 track!). Be sure to download the application for your smartphone and participate in the contest at the race track to win some cool merchandise.
Here's some of the kind of action you can anticipate at BIC

Quick Links to Volkswagen Motorsport India:


Facebook page

Twitter feed
---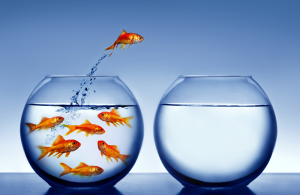 Trending @ Ideafarms
Design Thinking
Design has been looked at with a great deal of suspicion; its value has neither been evident nor quantifiable in conventional 'business case' terms.
However, in the last year or two, challenges for businesses all over the world have grown quickly as customer expectations multiply at a pace that's hard to keep up with. It's almost as though someone has changed all the rules of business as usual. Throwing more technology at it isn't the answer. We need a new, integrative way of thinking—Design Thinking.
Design Thinking is a lens that re-adjusts the focus of your strategic eye to the needs of the users of your service, product or organisation. As producers we are under the delusion that we provide solutions to fulfill the needs of people. The reality however is that we assume problems, apply an objective formula on it and stagnate.
Design Thinking is the tool that can pole vault you out of the current swamp, that is business.
---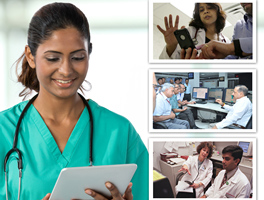 DESi (Design Entrepreneurship for Social impact)
Platform for epidemic management
This month, floods in Assam triggered concerns about the spread of Anthrax in the Kaziranga National Park. Even as those fears were allayed, Dengue outbreaks continue to wreak havoc across the country. In response to a long-felt need, the Ministry of Health and Family Welfare launched the Integrated Disease Surveillance Program (IDSP) to detect early warning signals of impending outbreaks and initiate an effective response in a timely manner.
While IDSP has a decentralised surveillance mechanism, actionable results of the surveillance are typically available only on a monthly basis. The recent Anthrax scare, however, was dispelled within weeks, rendering the system ineffective.
So we questioned, 'why not use the easy accessibility of smartphones as the solution to the problem?' Taking the objective of timely data availability for effective response action, Ideafarms partnered with St. Stephen's hospital to design HealthWatch – the disease surveillance platform that captures data at point of impact and displays results of the surveillance in real-time.
The goal of HealthWatch is to eliminate inefficient and limited systems, by putting surveillance directly in the hands of doctors. The mobile application allows the doctor to directly enter data, as and when she diagnoses. The data is then displayed in real time on a map for use by concerned civic agencies.