SMART APPS
Smartphones and tablets are an extension of our being: our personal information, wants, needs and traits are all sitting in them and we are all connected through them. Smartapps have taken the world by storm. From utility apps for our workplace, to the ones that help us keep track of our workouts, those we use to teach our kids interactively, the ones we play games on and any other sphere of life, Smartapps have enriched our lives in many ways.
The Ideafarms Mobile Practice evolved to create 'value concepts' using what we believe is the core value these smart devices bring to the table – Always on wherever you go.
Location-based, Location-aware
Digital media, especially mobile, demands very accurate location information. This was not a requirement in print media, but consumers expect to find information nearby or get accurate directions to visit a business. Because consumers demand this level of accuracy, advertisers will too.

Most publishers have not taken a content quality oriented view of their business. Instead, they focus on product initiatives to drive short-term revenue growth, offset the decline in print revenues, and reduce advertiser churn. Unfortunately, these new products are simply distribution methods for the same bad content they have collected and managed for years.
Well said Jeff Porter.
Designing apps that have the ability to discover relevant material in the immediate vicinity to serve on a smartphone can be challenging. It completely overturns traditional database thinking. Imagine dishes from a buffet 'virtually' served on your table instantaneously through a dynamically generated menu, and you get why. What's in the database isn't important any more, the availability on location is what matters.
---
Mobile-First
Let's dive head first, into Mobile First Design: Why It's Great and Why It Sucks, a longish article (well worth a read) by Joshua Johnson on design shack
When you start with the desktop platform, you tend want to take advantage of everything that platform has to offer. You build an amazing product that leverages lots of great technology, only to realize that none of it scales well down to mobile. This can and does lead to severely watered down mobile products that feel more like an afterthought than a polished, finished product. Does this happen with every project? Perhaps not, but the story is likely far more common than you'd like to believe.

…

With mobile first design though, I'm hit over the head with constraints on step one. That's no fun at all! Right away I'm faced with a smaller screen, fewer resources, and a bunch more headaches. Further, it's just not comfortable territory. I've spent most of my web design career in the desktop space, building experiences around mouse hovers and clicks, not finger taps. I've done plenty of mobile work but I wouldn't call it my strong suit.
We agree.
Our experience with design of Smartapps echoes Joshua's understanding of the challenges most companies face, despite the fact that they have fairly robust Web Applications.
Talk to us.
---
Some 'smart' stuff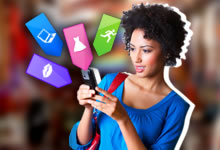 DealChaat
DealChaat is a platform on which small retailers can create and self-manage location-based offers real time. These immediately become visible to shoppers in the vicinity on an app.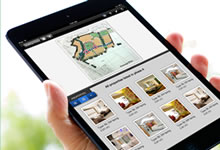 ReMIX
ReMIX is a Interactive Marketing + Sales Configurator app on the iPad for Property brokers to assist their clients to search for real estate.